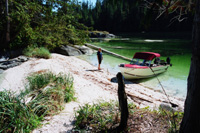 LandQuest Realty Corporation is a unique Real Estate company applying the very latest in computer technology to a highly specialized area of Real Estate in British Columbia. It is the industry leader in the niche markets of rural and trophy properties throughout the province.
LandQuest is "The Source" in British Columbia for rural, recreational, farms, ranches, guest ranches, resorts, golf courses, ski hills, islands, oceanfront, lake & riverfront, timber, resource, unimproved development sites, and remote fishing and hunting properties.
LandQuest has assembled a team of experienced professionals from all over British Columbia and is focused on marketing all types of property. The LandQuest team provides a degree of expertise and overall knowledge that is unparalleled in this market, and previously unavailable within a single organization.
One of LandQuest's primary strengths is it's access to a large number of qualified potential purchasers.
LandQuest is constantly innovating, updating and improving it's marketing techniques to stay ahead of changes in technology that drive the marketplace.